1977 HONDA CB750
ALL IN GOOD TIME.
This project was and is a first for me, my first motorcycle and first 'custom' build.


I acquired this bike in as rough of shape as possible with the ambition of restoring it in a working, cleaned up way. That has since spriraled into a full custom bike with period performance modifications focused on lightening, handling, and aesthetic. The central driving theme of passion, relying on that I do as much of this myself in an effort to learn, refine, and execute.
INSPIRATION
Taking notes form period racing build specifications, chassis setup, and overall trim. I'm taking inspiration from the past to build a trimmed down 'cafe' bike, with all the right bits.
CHASSIS
In the name of simplification the frame has been detabbed and chopped. One, to simplify the rear and two, to allow a full top end rebuild with the engine still in the chassis. The rear has been tied together with an angled hoop to allow full suspension articulation.

The rest has been cross braced and seam welded to improve overall rigidity.
SUSPENSION
One of the earlier decisions with this build was to utilize what I had and make it the best I could.
The 35MM factory forks have been rebuilt with Race-Tech valved internals, which well surpass traditional pushrod dampening forks. The springs, preload, oil weight have been paired to match.
Considering that brakes are unsprung mass let's call them suspension too. The brakes are now a dual disk setup with phenolic pistons, sintered pads, and lightened rotors off a 1990's yamaha. The brake carriers themselves have been milled out in the name of continual lightness.
MOTOR MOUNTS
An often easy to overlook detail on the CB750 is the factory motormounts that are simple spot welded steel plate construction.
It was only logical to 3D model, print, and cnc a small batch of replacements out of 6061. Hands down stronger, cooler, and lighter than factory.
THE ENGINE
An all original low mile engine was sourced to swap into the chassis as the prior motor had it's fair share of issues.
Fitted with a period 'd' grind cam for improved streetable performance. This was matched with velocity stacks and a reproduction Yoshimura 4 into 1 pipe by Motogpwerks.
The engine was fitted with adapters for AN oil lines to supply oil from the sump as well as to and from a nose mounted oil cooler.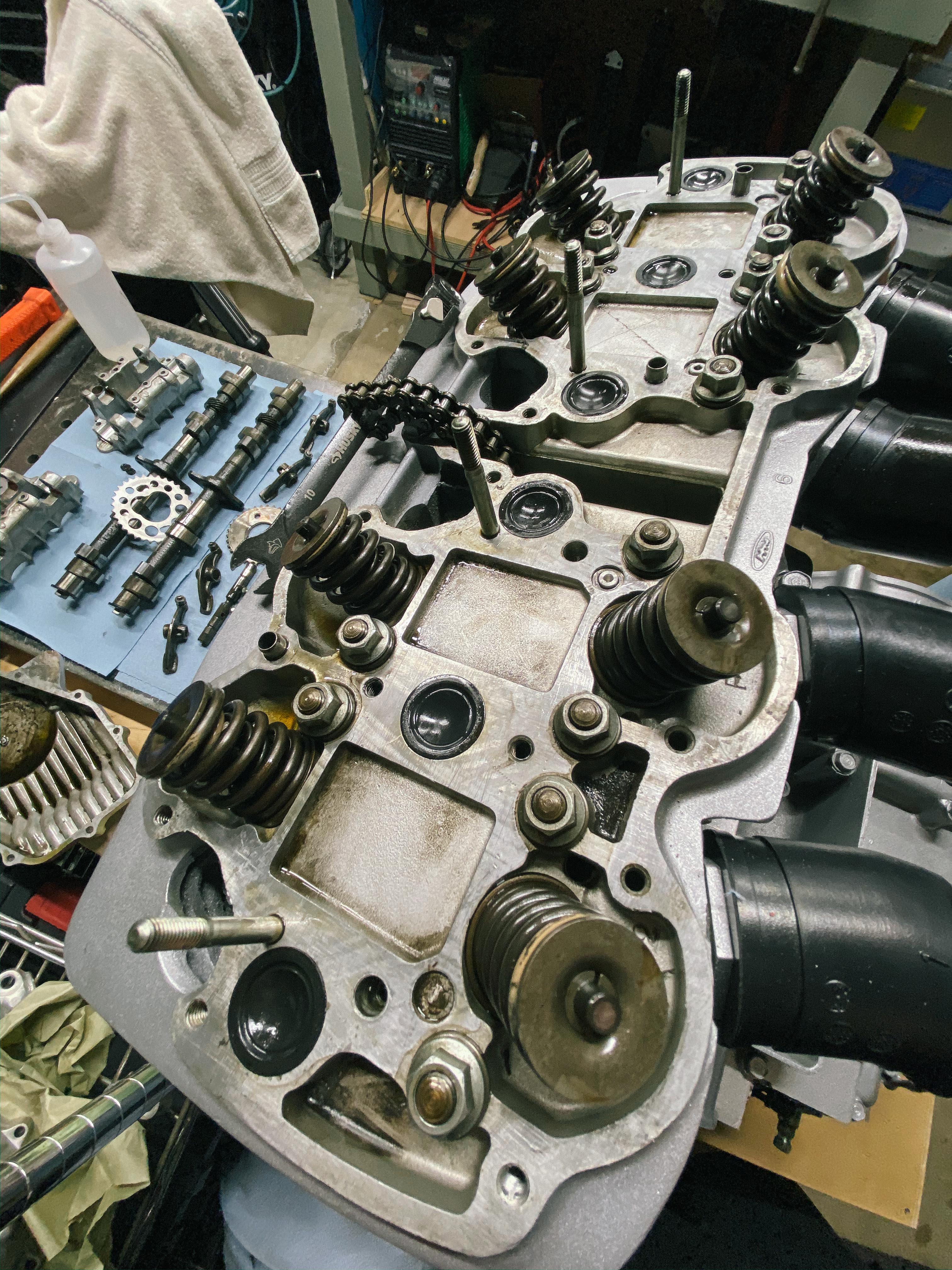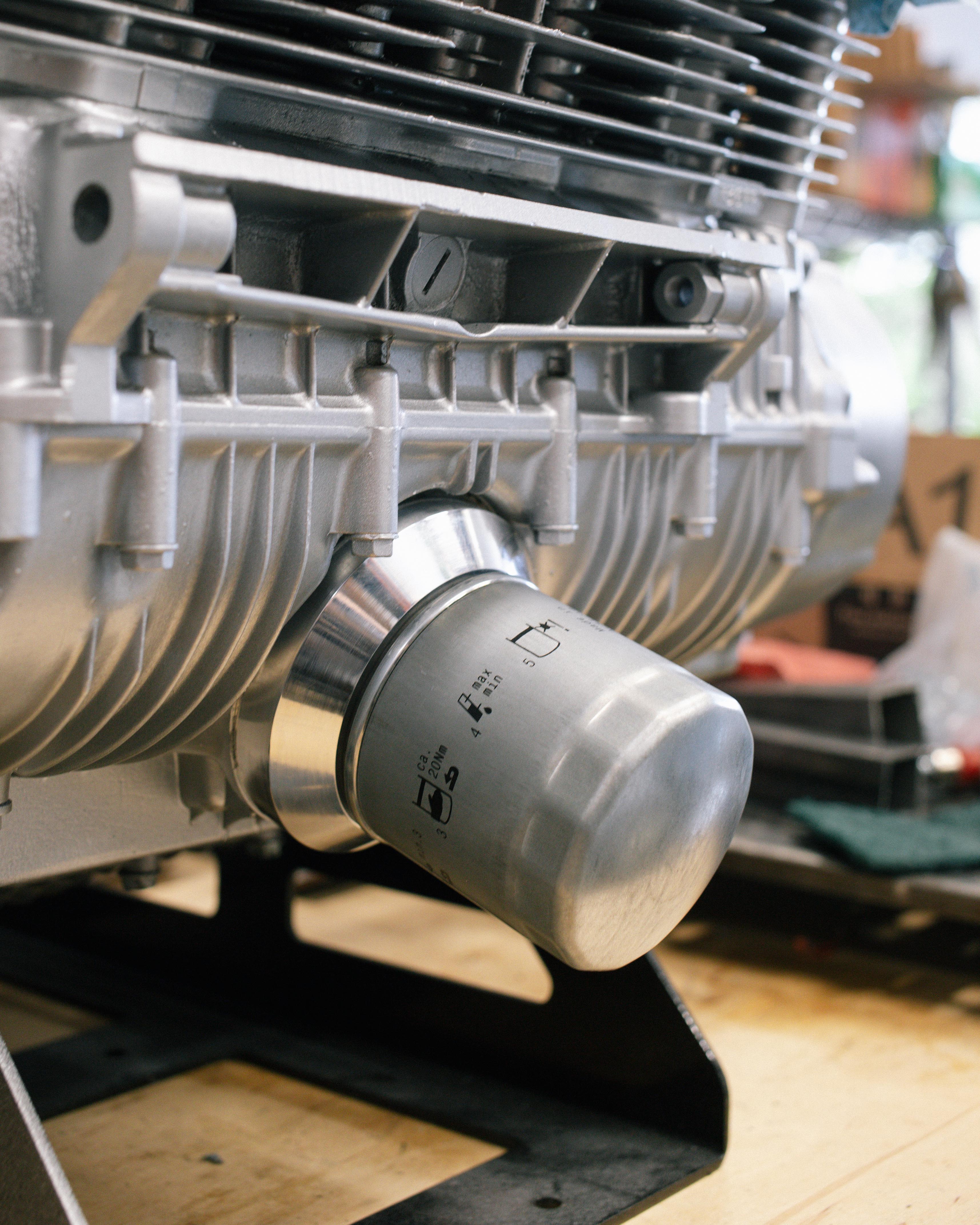 OIL SYSTEM
Being an aircooled engine, cooling is in short supply. I've decided to run an oil cooler out front with a custom aluminum oil tank under the seat. This new tank, replacing the stock steel assembly is both larger in capacity and features than the previous.
The new oil sump tank functions as an air oil seperator with a purge tank to vent crank case pressure and collect any residual blow by. Similiar to the CR750 oil system used at Daytona in 1969.
All this plumbed with -8AN fittings, monitored by an oil pressure gauge to keep an engine healthy at sustained higher load levels.
CURRENTLY

Developing the fuel tank and rear fairing using quarter inch rod to provide a visual wireframe of general form and proportion.

Centering around a 1950's Cessna fuel cap and flight grade switches from the space shuttle.